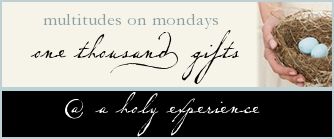 I have read Ann Voskamp's Book
One Thousand Gifts: A Dare to Live Fully Right Where You Are
recently. It has been an inspiration to me to look at the everyday moments of life and give them to our Savior with gratitude. This is more for me, for God, but I encourage you to start your own list.
"Gratitude in the midst of death and divorce and debt -- that's the language I've got to learn to speak -- because that's the kind of life I'm living, the kind I have to solve. If living eucharisteo is the key to unlocking the mystery of life, this I want. I want the hunt, the long sleuth, the careful peiceing together. To learn how to be grateful and happy, whether hands full or hands empty. That is a secret worth spending a life on learning. "
1. For
warm
hot (and ok, warm too) coffee with cream and sugar first thing in the morning.
2. Quite mornings with birds chirping to seek God.
3. Disrupted mornings by waking children seeking me.
4. Time spent with family
5. hard workouts and sweat and perseverance
6. warm cinamon rolls baking in the oven
7. Little hands with dimples helping to prepare breakfast